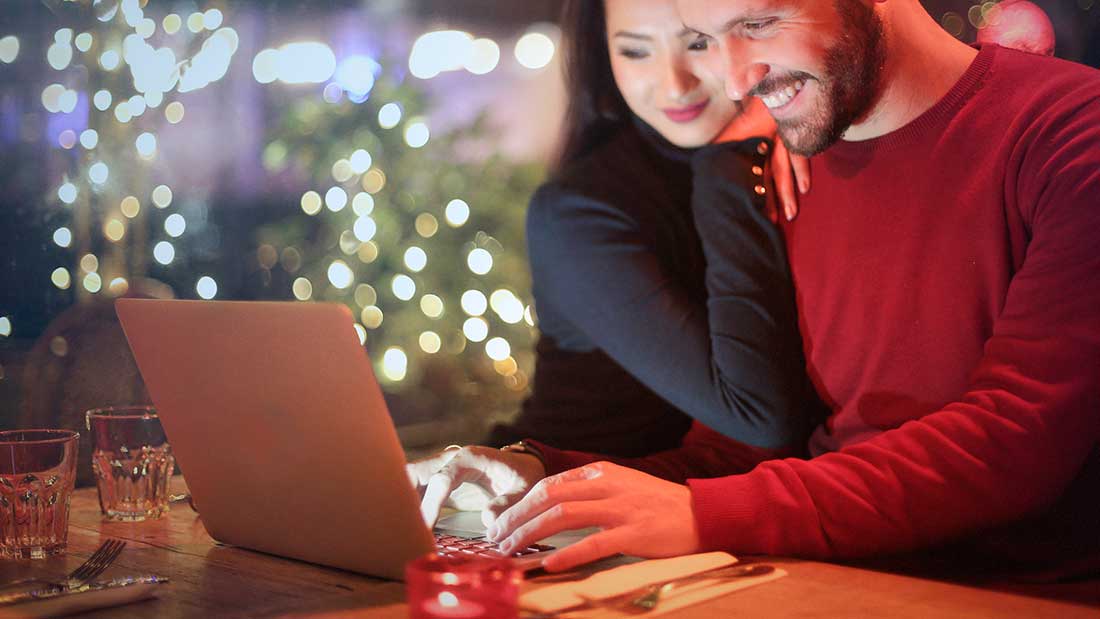 11 Dec

5 Magnificent Christmas Card WP Plugins

We all want to be together with all our loved ones around the winter holidays. We would like to thank and to wish all the good in the world to our family, friends, colleagues, clients. How do we get to be present at the same time in 100 places? With a Christmas Card, of course!
1. Magic Christmas Card With Animation – WordPress Plugin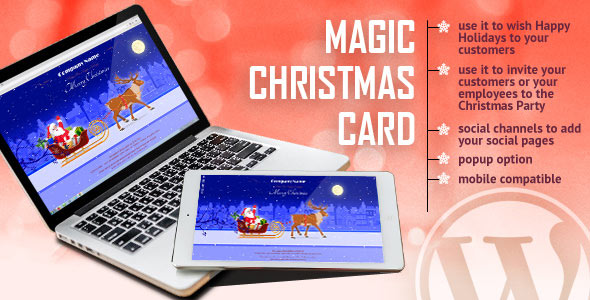 This plugin will allow you to create 'magic' Christmas card. You can use it to wish Happy Holidays to your clients/employees, to invite your clients/employees to the Christmas party and more…
IF YOU NEED ONLY THE JQUERY PLUGIN FOR THIS PRODUCT, YOU CAN DOWNLOAD IT FROM HERE
VIDEO TUTORIALS:
1. Installation
2. Manage The Card Settings, Insert it into your website or activate the popup
KEY FEATURES of Magic Christmas Card With Animation WordPress Plugin:
Fully Responsive Design
The plugin is fully responsive, including images and texts and will adapt the browser/device resolution
Use it to wish Happy Holidays to your customers
At the end of the year, wish all your customers and employees 'Happy Holidays' in a 'magic' way. Just paste the link to the card/invitation in the email you'll send to them.
Use it to invite your customers or your employees to the Christmas Party
Invite your customers/employees to the annual holiday party. Just paste the link to the card/invitation in the email you'll send to them.
Magic Christmas Card With Animation – WordPress Plugin is Mobile Compatible
It is compatible with IOS and Android operating systems
PopUp option
You can activate the card/invitation as a popup, when the user visits your website. In this video demo you can see how it works: https://youtu.be/-GANo0rz-Rk?t=160
Animated Elements
We do not have to say that it is a must for an online Christmas card to be animated. The Magic Christmas Card has Magic Animations!
Mobile Compatible
It is compatible with IOS and Android mobile devices.
Social Channels To Add Your Social Channels Pages
You can add in the card, the links to your social channels pages.
Note:
The 'Jingle Bells' carol used in the live preview is offered by the website A-M Classical. The carols are available under a Creative Commons Attribution license https://www.amclassical.com/creativecommons.shtml

2. SnowySoon – Multipurpose Landing Placeholder eCard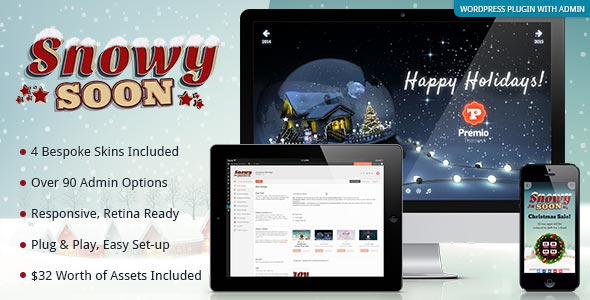 In a nutshell, once installed, SnowySoon will act as a custom placeholder for your site while you work on your theme. But that's not all it can do, you can use it as a promotional landing page, an online e-card, an event page or a simple website, it's up to your imagination.
Features:
Unprecedented customization ability in a product of this type.
Four distinct themes with bespoke design are included to help you get started faster.
5 Full Screen Background Types : Video (hosted or YouTube), Ken Burns Image Slideshow, Fade Image Slideshow, Continuous Fade and Solid Color background + customization options for each + overlay options like patterns, gradients or JS animated effects
Audio Support for hosted or remote mp3 files.
3 Styles of count down timer: Double Flip, 3D Square Flip and 3D Rounded (Piechart).
Fully Responsive and a smooth, lovely experience on all screens sizes.
Layered Photoshop PSD designs included for all skins as well as a Background Builder PSD and 50 ready to use background variations.
$32 worth of assets included – more to come – so that you don't have to buy them yourself if you want to use them

3. Celebration Cards – WordPress Plugin (former Christmas Cards)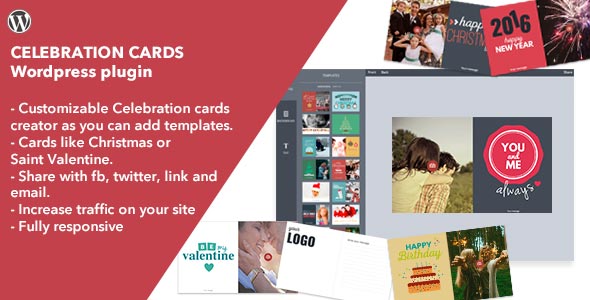 This Celebration Cards WordPress Plugin provides you a simple card creator which allows the users create cards using predefined templates as well using their own images and writing any text they want. Once the user has finished creating its card he/she can share it by sharing a link, facebook, twiter and email.
Features:
Customizable
It allows you to add more templates as well as your company logo in a easy way right from the admin.
Fully responsive
The plugin adapts its UI and behavior to any device screen.
Celebration designs
There are about 50 templates designed exclusively designed for this plugin.
Easy share
Using a link, Facebook, Twitter or email.
Interactive and customizable for the users
The users can add their own images as well as write text to customize the cards. It should be noticed that the plugin stores the images uploaded by the users (using ajax so without refreshing the page) to your WordPress site.
Easy and intuitive admin panel
Featuring a default, simple and intuitive admin panel where the options try to be as visual as possible.
Prepared to be multilanguage
With the use of .pot files, the plugin is prepared to be easily translated using softwares like Poedit (this refers to the admin part).

4. Business Christmas Greeting Card – WP Plugin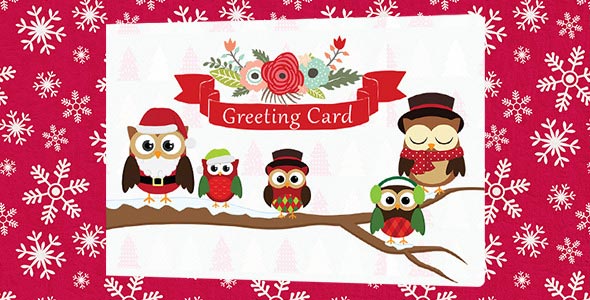 Winter holidays are just around the corner. You have some time to think about sending some greetings to your customers, clients, loved ones and so on.
Cool Features:
Works as plugin on wordpress platform (and it can be used as shortcode as well)
Fully customizable – you can modify the cover design, the inside design, write your own greetings and upload your company logo or signature as well. As a bonus , we give you the PSD sources
The greeting card is animated (it opens with a smooth animation), and of course on the background it snows smoothly. (all of it is customizable from the administration area)
Responsive design! It works on any resolution, on Ipad, Iphone, any laptop or computer .
You can also add custom music on the background (just upload it on the administration area) (Free music file included in the package)
BONUS ! FREE! 3 Different types of Covers , 3 Different types of inside card (with a Tree, some Owls, Christmas & New Year messages), 3 Christmas Backgrounds!

5. Christmas Card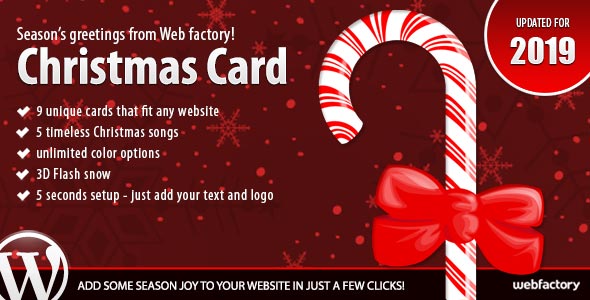 What To Expect:
9 unique cards that fit any website
Candy bar
Bells
Christmas tree
Door ornament
Reindeer
Santa
Silent night
Snowman
5 timeless Christmas songs

First Noel
Jingle Bells
Joy to the World
Silent Night
We Wish You a Merry Christmas
unlimited color options
3D Flash snow in 5 variations
5 seconds setup – just add your text and logo
change the card's main image and modify it for any occasion or holiday
100% SEO friendly
built-in help + super-easy to use

---
Want to add an advertisement on your site in an original way?
Here's how!
---